Royal Bank of Scotland
Looking down on the Branch at 14 George Street
Now 'The Dome' restaurant
View from the Head Office of Standard Life Investments, 1 George Street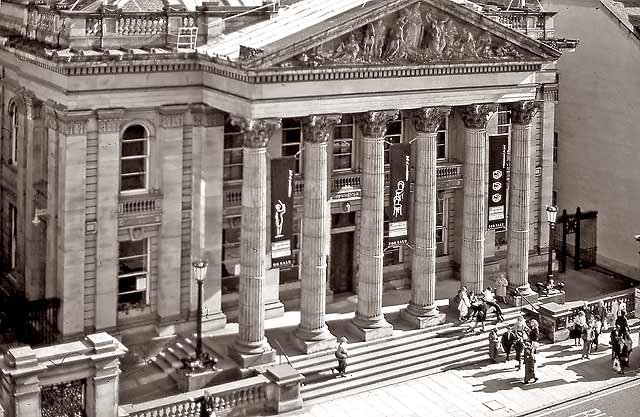 © Copyright: Peter Stubbs Photograph taken July 23, 1993
14 George Street
History of the Building
This building is on the south side of George Street, across the road from St Andrew's and St George's church. It was designed by David Rhind, and originally built as Head Office of the Commercial Bank. The building opened in 1847.
Following takeovers, ownership of the building moved to the National Commercial Bank of Scotland then the Royal Bank of Scotland. It was a branch of the Royal Bank of Scotland when I took the photograph above of the RBS workers 'behind the counter' beneath the dome.
Today
During the 1990s and early 2000s, several of the banks and other buildings owned by financial companies in George Street have seen a change of use, becoming restaurants, shops and night clubs. The former Royal Bank of Scotland at 14 George Street (in the photo above) has now become 'The Dome' restaurant.