Jenners' Store
49 Princes Street - opposite the Scott Monument
1962
Jenners decorated for the visit to Edinburgh by King Olav of Norway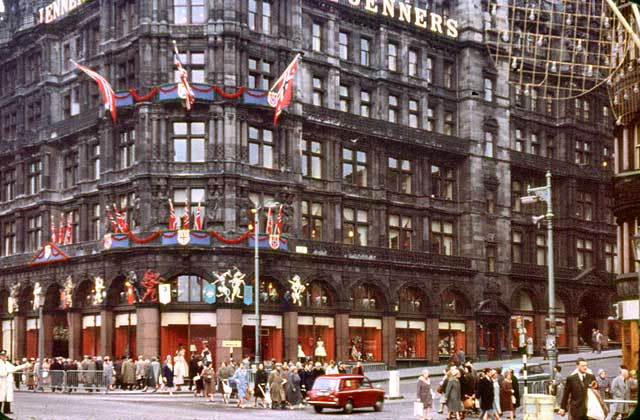 © Reproduced with acknowledgement to Ally McGurk, from the collected photos taken by Ally and her father, Thomas M. McGurk
Jenners
Jenners' Store has stood on the corner of Princes Street and South Saint David Street, across the road from the Scott Monument in East Princes Street Gardens, for over a hundred years.
Ally McGurk who provided this photo writes:
King Olav
"Jenners is Edinburgh's great survivor - probably the only one of the many fine old department stores still in existence, albeit under new ownership.
Notice the Norwegian flags all over it - this proves the photo was taken when King Olav of Norway paid us a visit."
Ally McGurk, NW Cumbria, England: May 25, 2007
Thank you to Ally McGurk, daughter of Thomas M McGurk for allowing me to reproduce this photo. More photos taken by Ally and Thomas can be found on the Flickr web site.
Reply 1
from Stephen McMahon
Munich, Germany
I originally had this photograph dated as 1960, but Stephen McMahon has corrected me.
Thank you Stephen
Stephen writes:
King Olav's Visit
"I've just been browsing the updates on the site and came across the shot of Jenners .
The date given is 1960 and the event is the visit by King Olav of Norway. I remember being at primary school at the time and the father of one of my classmates drove the Royal Train which brought the royal party to Edinburgh.
Now, I started school 1961, so if the photograph shows decorations for this event, then it must be later. I have checked this Monarchy website which lists the dates of all state visits to Britain.
1962
King Olav V visited Britain in 1962 and came to Edinburgh on 16 October (a date which stuck in my mind as it was, for what it's worth, the date of my parents' wedding anniversary).
My three ha'pence :)
Stephen McMahon, Munich, Germany: August 10, 2007
Reply 2
from Ally McGurk
Ally McGurk replied:
Agreed, 1962
"1962 sounds more correct actually, as I was in the choir that sang for King Olav, our present Queen and Prime Minister Harold MacMillan.
I was at Holy Cross Academy at the time. In 1960 I was still at St Peter's Primary School.
They got a big choir together, comprising various smaller school choirs, and I've a feeling the performance was at the Assembly Hall on the Mound.
We had to learn the Norwegian National Anthem, among other things, although it was an English translation."
Ally McGurk, NW Cumbria, England: August 10, 2007
Reply 3
from Eric Gold, East London
Eric Gold, East London, writes:
Royal Procession
"I remember the Jenners shot well as when King Olav came on a state visit to Edinburgh I was at St Patrick's school. We all lined up in the Canongate and waved our flags when the King with Queen Elizabeth drove past to go to Holyrood Palace.
All the school was lined up either side of the Canongate. I will never forget that day. A month or two later, I went to St Anthony's school in Leith."
Eric Gold, August 8, 2007