Granton Ice Works
West Shore Road, Granton
Ice blocks leaving the old Granton Ice Factory, West Shore Road - Pre-1952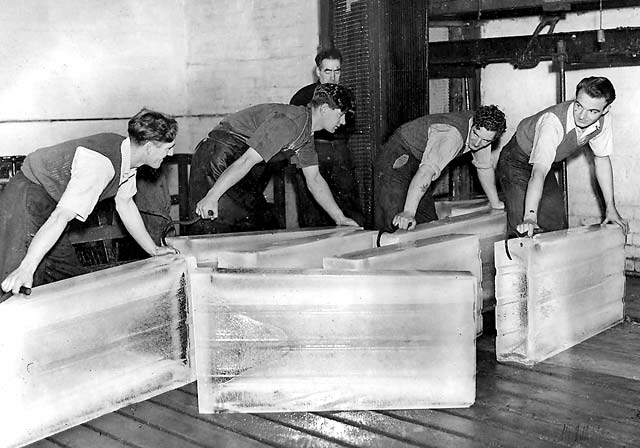 © Reproduced with acknowledgement to Forbes Wilson Photograph 'rescued' when the factory closed.
Granton Ice Works
West Shore Road, Granton
Thank you to Forbes Wilson for providing this photograph.
Forbes' father, John Wilson, was Factory Manager from 1966 to 1980 at the West Shore Road ice works.
Forbes explained:
West Shore Road
"This photograph is from the old Granton Ice factory on the West Shore Road.
The date of the photo is unknown but is definitely pre-1952 since a crane was no longer required when the new, adjacent factory opened in 1952"
2 cwt Ice Blocks
The 2 cwt ice blocks were loaded onto the crane and taken down to the cold store for storage. This was essentially a large freezer where up to 100 tons of ice could be stored to meet peak demands.
The chap 2nd from the left is Dick Angus. He stayed with the firm and ended his days as the Chief Engineer.
Forbes Wilson, Guildford, Surrey, England: September 23, 2006