Death
I was sad to be given the news, early last month, of the death of John Stewart on 9 January. Thank you to Alan Stewart and Frank Ferri for taking the time to pass on the news and a little of the background to me.
OldLeither Web Site
I know that he will be sadly missed by the many people around the world who have appreciated his enthusiasm for Leith and all the work that he did to set up his OldLeither web site and keep it running over the past eleven years.
In appreciation of the work that he had done on his web site, a surprise party was arranged for John in 2010 by some of the contributors to his site. The party was held in Leith Library. John arrived there believing that it had been arranged as a celebration in honour of his mother, then aged 102, but found that he was the centre of attention!
The photo below was taken at this party and shows a few of the guests:
- Alan Stewart (John's son)
- (one of John's daughters)
- A footballing hero from John's youth, Laurie Reilly, one of the
'Famous Five' in the Hibs team in the 1950s.
- Mark Lazarowicz, MP for Edinburgh North and Leith.
- John Stewart
- (the other of John's daughters)
Surprise Party for John at Leith Library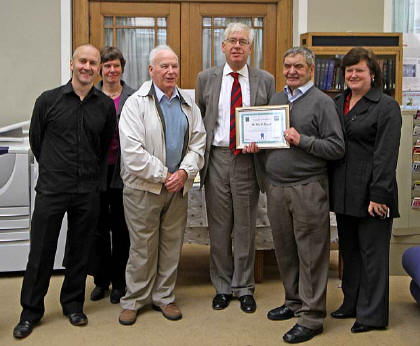 © peter.stubbs@edinphoto.org.uk Photograph taken: Oct 9, 2010
It is hoped that arrangements can be made to continue to keep John's OldLeither web site operating into the future.
Obituaries to John
The obituary below was published in 'The Scotsman' on 23 January 2013.
Reproduced with acknowledgement to Frank Ferri, Newhaven, Edinburgh.
Another obituary to John, this one featuring a photo taken at the 'surprise party' above, was published in the Edinburgh Evening News on January 25, 2013.
Peter Stubbs, Edinburgh: 5 February 2013