East Claremont Street
formerly Claremont Street
Broughton, Edinburgh
Early 1900s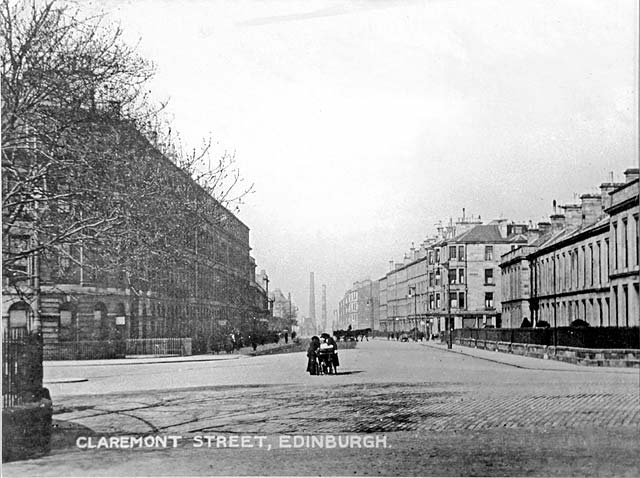 © Reproduced with acknowledgement to Chris Douglas, Manager of The Orchard Bar, Howard Place, Canonmills, Edinburgh
who found these photos, and to Allan Dodds, Nottingham, Nottinghamshire, England for telling me about them..
2011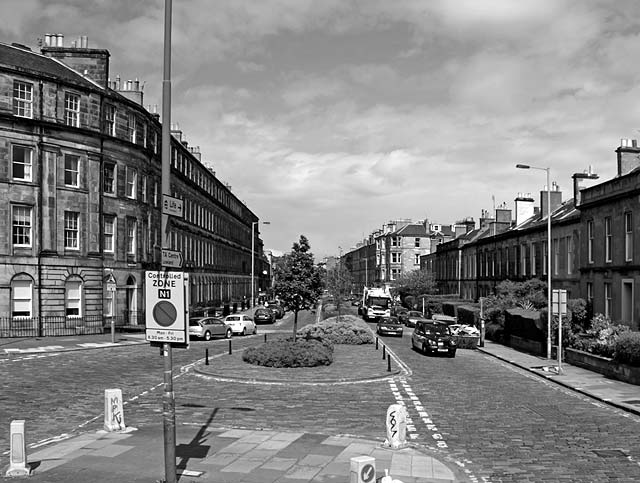 © Peter Stubbs - please contact peter.stubbs@edinphoto.org.uk Photo taken: May 20, 2011
Photo
1.
Early-1900s
Comparison
Thank you to Chris Douglas, Manager of The Orchard Bar, formerly Northern Bar, Canonmills, Edinburgh, for allowing me to reproduce this photo and other old photos of Edinburgh. Chris recently found these photos in the basement of The Orchard Bar.
The Street
This view looks to the NE along Claremont Street (now re-named East Claremont Street) towards the Powderhall refuse works. There are two chimneys in the distance. Is one of these for the refuse works?
There does not seem to have been a lot of traffic in the street when this photo was taken! Two ladies seem to have stopped with the pram for a chat in the middle of the street.
Photo
2.
2011
Recent Photo
The buildings in this photo, taken in 2011, look almost identical to those in the photo taken in the early 1900s. The street is still cobbled, but the recent photo shows that islands, flowers, road signs and bollards have now been added in the middle of the street close to the junction with Bellevue.
More trees can be seen in East Claremont Street in the recent photo, and the chimneys at the NE end of the street are no longer visible.
The Viewpoint
The early photo was taken from close to ground level at the junction of Claremont Street and Bellevue. The 2011 view was taken from the upper deck of a No 8 bus as it travelled down Bellevue towards Canonmills, past the end of East Claremont Street.
I felt that the higher viewpoint gave a better view of East Claremont Street.