Postcard published by McCorquodale & CO Ltd, Glasgow & London
Caledonian Railway
Princes Street Station Hotel
ON THE RIGHT: Caledonian Railway Princes Street Station Hotel, and beside it on the hill, Edinburgh Castle
AHEAD: Princes Street Scott Monument (above the right-hand tram), St John's Church, St Cuthbert's Church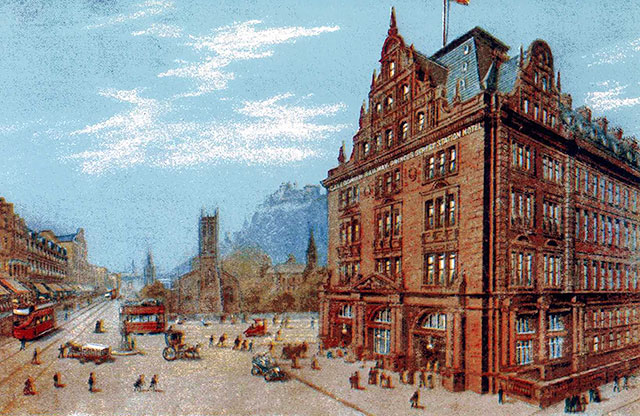 © Reproduced with acknowledgement to Kenneth Williamson, Silverknowes, Edinburgh
West End of Princes Street and Caledonian Hotel
McCorquodale's Postcards
I have only seen three other cards published by McCorquodale & Co Ltd.
All three are of the Caledonian Hotel situated above the former Princes Street Railway Station at the junction of Princes Street and Lothian Road.
Two of these cards were black and white and werre sent through the post in 1908. The third card has not been posted. The transport on the crd at the top of this page suggests to me that this card would probably have also been published in the early-1900s.
Postcard reproduced with acknowledgement to Kenneth Williamson: 20 Feb + 26 Aug 2013